Every season, there are a few designers who above all want strike the fashion front with a bit of frivolity - and although some collections may seem a little robust, they are never greeted with anything less than a huge round of applause from the audiences that are sat on the edge of their seats throughout the show. Frivolous fashion was once ridiculed, now however the more 'outside the box' the better. Think of Lady Gaga for example... okay, so I would never get away with wearing half the things she does (probably because I have quite a few more lady lumps than she does) ... but although once ridiculed, she stuck to her guns and is now hailed in all her glory when it comes to best dressed in fashion events. Lets face it - people always remember her outfits... she does make an impact.
This season, one of the many design houses who thought outside the box were those at the HOUSE OF HOLLAND. Its granted that his collection wont have been to everyone's taste, but I love it. I crotchet myself and have decided to make it my aim (much to my boyfriends dismay) to make myself a jumper / tube skirt or jacket to allow myself to become part of this edgy trend.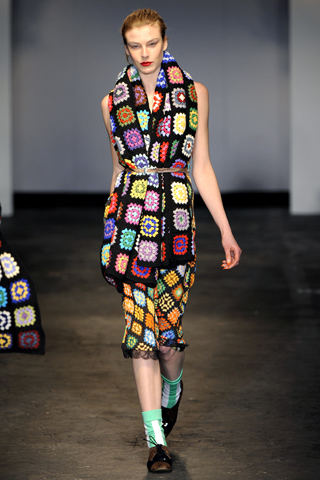 One of my favourite style icons of the moment - Nicola Roberts has recently been spotted in a

HOUSE OF HOLLAND

maxi dress - proving that crochet squares are not just for grannies!
If you watch this video a few times... you too will see how easy it actually is, and will soon join me in getting your crochet freak - on.
REMEMBER TO SIGN UP TO THE NEWSLETTER FOR ALL THE LATEST BLOG POSTS & INFO.