Now most of you will have seen Nicola Roberts' new video... if you havent then take a look:
For me, the song is going to take some getting used too... I like it - but its a bit much when your in a chilled mood. I have yet to listen to it when I'm in a party - Esq vibe though, so I cant really say much on that topic.
But as for her wardrobe in the video -
I LOVE IT
. Nicola Roberts has
always been associated as being one of the more fashionable girls
from the former girl band Girls Aloud, but in this video her styling has been taken to a whole other level. And Why? Well for me personally, I am totally in awe of how well she has made use of various patterns. She's managed to throw almost every pattern on trend right now together... and has still managed to look utterly fabulous.
Nicola Roberts has woken me up to the world of extensively mixing up patterns... and having researched into this collaborative trend, let me tell you its going to be big this Winter!
For those of you who are a bit scared by this news, I have put together a little how too guide.
Here is the only major rule to look out for: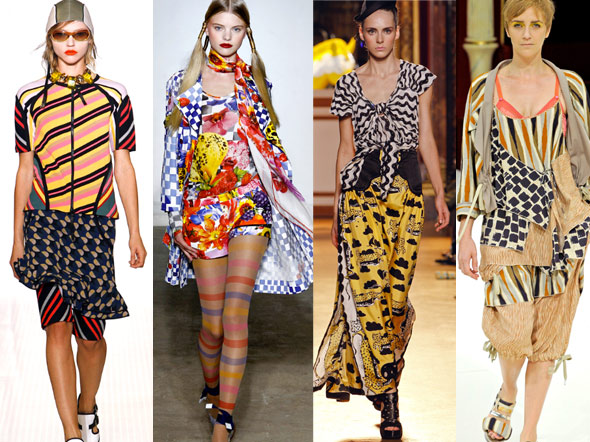 You can literally put anything together... you've just got to know how.
Be it stripes, leopard print, polka dots, tribal, floral - you can literally put anything and everything together... you just have to make it look like you mean business - not like you had a fight with your wardrobe, and your wardrobe won. capiche?! And the secret?... basically vary the size of your prints... and try not to go too crazy with colour until you've mastered the mix match technique. (basically stick to colour you know match - associate by theme - nautical, pastels etc.)
For example. If I wanted to team together stripes, leopard print & floral patterns then I would make sure that say the size of the stripes were big, whilst maybe the floral pattern was kept ditsy and then I would use leopard print in an accessory to brake the stripes and the floral up a bit.
However, there is an exception to this rule... if you keep the colours the same sort of tones (this means no clashing, contrasting or major colour blocking) then you can get away with similar sized patterns - Have a look:
It does take a bit of practising, but once you've gotten used to knowing what patterns work well together, you will be prancing around like Nicola Roberts in no time!
Keep your eyes open for more tips 'n tricks on how to master this trend, coming soon to Typedupthoughts.
REM
EMBER TO SIGN UP TO THE NEWS LETTER FOR ALL THE LATEST BLOG POSTS, NEWS AND INFO ON TYPEDUPTHOUGHTS.